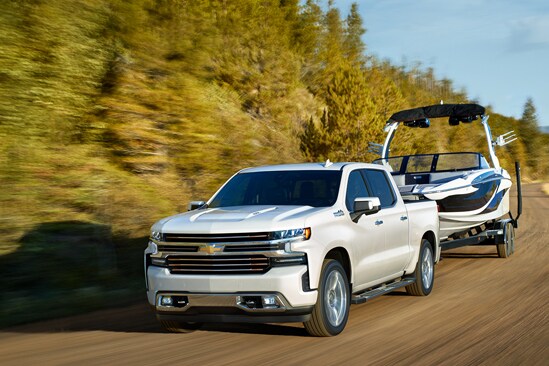 Chevy Brings Power, Performance and Technology to Towing
When you're towing a trailer, there are plenty of variables that can effect performance. For help deciding which Chevy towing package fits your needs, contact Denooyer Chevrolet to speak with a trailering expert today.
Chevy vehicles offer an outstanding selection of towing capabilities. From worksite to weekend DIY projects, Denooyer has the right combination of power and pull to handle all your towing needs. Contact Denooyer to get more information on your new Chevy today.
Let's talk about towing capacity. No, it's not quite as cool as horsepower or five-spoke wheels, but Chevy's industry-leading towing packages combine innovative technology and all-around capability to move you and your gear safely and efficiently.
Chevy trucks pull their weight
Whether you're a weekend warrior towing a boat to the lake or hard at work moving heavy equipment between job sites, Chevy trucks offer a wide selection of towing capabilities. From the Colorado's best in class max trailer weight rating of 7,700 pounds to the all-new 2020 Silverado 3500HD that can handle up to 35,500 pounds, there's a towing package that will work for you.
What sets Chevy trucks apart is proven performance and versatility. No matter what you need to hook up to the trailer hitch, Chevy's have the towing capacity to get the tough jobs done.
SUVs blend towing capacity and cargo space
Chevy's SUVs offer terrific towing capacity and loads of cargo space to haul your gear — and kids, soccer balls, groceries and dogs.
The Tahoe and Suburban models can easily handle trailer weights in the 8,000 pound range and even the Equinox gets into the act with a towing capacity of up to 3,500 pounds. Looking for something in the middle? The Traverse and Blazer can comfortably tow loads in the 4,000 to 5,000 pound range.
Chevy SUVs are designed to deliver the types of features that match your lifestyle. The ability to be your weekday commuter and tow a trailer on the weekends gives you the best of both worlds in one vehicle.
Towing technology and capability get hitched
Whether you're an experienced hauler or new to trailering, Chevy makes it easy and safe by putting plenty of cutting-edge towing technology on board.
On select models, simply engage the Tow/Haul Mode and the transmission will automatically assist you in hauling. This feature adjusts the shift schedule in the automatic transmission so it isn't "hunting" for the correct gear while towing or trailering.
You can also download Chevy's in-vehicle app to your smartphone and set up custom trailer profiles, test your trailer lights, monitor trailer tire pressures and get maintenance reminders. It also includes a pre-departure checklist so you can be sure the trailer is ready for the road.
If you're parked with a trailer on an incline greater that a five percent grade, Chevy's Hill Start Assist will keep you stable. Available on the Silverado, Suburban, Tahoe, Traverse, Blazer and Equinox, Hill Start Assist automatically engages to hold the vehicle stationary for about a second, giving the driver time to accelerate before the vehicle can roll backward. It can be extremely helpful when you're stopped on a steep grade with a vehicle two feet from your rear bumper.
In the towing camera technology category, the Silverado really stands out from the competition. It offers an industry-leading 15 camera views making it a snap to get hitched up and provides the sight lines you need to be confident from the driveway to the highway. There's even a feature that virtually erases your trailer!
Get Connected at DeNooyer: New technology isn't always easy to get comfortable with and sometimes it can create situations where you aren't taking advantage of everything your vehicle has to offer. At DeNooyer Chevrolet, our Connection Center is available to help you learn more about the features in your car, truck or SUV. Whether you are at a service appointment or just have a question about your new car's navigation system, you can stop by the Connection Center anytime for a quick tutorial from one of our Certified Technology Experts.
Learn more about trailering terminology
When deciding what towing package will work best for you and to determine what you can haul safely, there are a few terms you need to understand. Keep in mind that Chevy engineers perform extensive testing on everything from acceleration to handling to thermal and structural performance for all towing packages. You should never exceed the specifications outlined in your owner's manual. If you have questions, don't hesitate to reach out to a Certified Technician at Denooyer Chevrolet.
Here are the basics you should know:
Gross combined weight rating: This is the maximum weight of both your loaded vehicle (Chevy truck or SUV) and your loaded trailer combined.
Gross vehicle weight rating: This is the actual weight of the entire Chevy truck or SUV and its contents, including fuel and passengers. It's the total allowable weight for the vehicle.
Axle ratio: In general, a higher axle ratio offers higher trailer weight ratings, quicker acceleration and less fuel efficiency. A lower axle ratio offers more fuel efficiency and quieter vehicle operation but will have slower acceleration and lower trailer weight ratings.
Trailer tongue weight: The amount of weight put on the trailer tongue balance for safety driving experiences.
Trailer weight rating: This rating is determined by subtracting the tow vehicle's weight (curb weight) from the Gross Combination Weight Rating (GCWR). Base vehicle (curb) weight plus 150 pounds each for the driver and a front passenger is used, so additional passengers, equipment and cargo weight reduce this rating.
Towing VIN label: The Silverado models go the extra mile to help you keep track of your truck's towing capabilities. Just look for the VIN specific towing table located in the door jamb. This label takes powertrain and tow and trailer packages into account to give owners specific information about their vehicle. It provides the truck's gross vehicle rating, gross combined weight rating for maximum payload, maximum tongue weight and curb weight.
The DeNooyer family has proudly served generations of loyal customers in the Capital Region for more than 35 years. Conveniently located on 127 Wolf Road in Colonie, New York, we are just a short drive from Albany, Clifton Park, Schenectady and Troy. At DeNooyer Chevrolet, it's our goal to offer a comprehensive dealership experience and we hope to make you part of our family of satisfied customers. Visit or contact us today to find out more about our outstanding selection of Chevy cars and trucks.